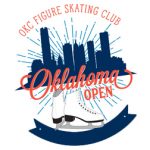 Join us for the 4th Annual Oklahoma Open Figure Skating Competition, Friday, August 23 – Sunday, August 25, 2019, at the Arctic Edge Ice Arena in Edmond, OK. Registration coming soon.
If you would like to sponsor the event and help support your local figure skating club, please contact Andrea McCoy at andreamccoy1@gmail.com for more information. We look forward to another great event!
THANK YOU TO THE 2018 OK OPEN SPONSORS!