2018 State Games of Oklahoma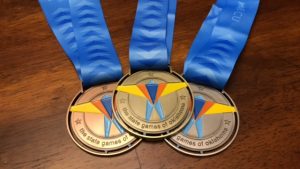 Join us for the State Games of Oklahoma on Saturday and Sunday, February 24 and 25, 2018 at the Arctic Edge Ice Arena.  State Games Announcement
The schedule for 2018 State Games of Oklahoma Figure Skating Championships has been completed and posted online.  Click the link or copy the text to the url field of your browser to visit our system: http://comp.entryeeze.com/Home.aspx?cid=162

Please note: Practice-ice selection begins Wednesday, February 07, 2018 at 12:30 PM.
To select your practice-ice sessions, sign in to the system at the time displayed above and visit your 'My Schedule' page.Practice-ice sessions may be PURCHASED from the schedule beginning Thursday, February 15, 2018 at 12:30 PM.
You can visit the "Purchase Practice Ice" tab in your account to purchase sessions from the schedule.
(function() {var iFrame = document.createElement('iframe'); iFrame.style.display = 'none'; iFrame.style.border = "none"; iFrame.width = 310; iFrame.height = 256; iFrame.setAttribute && iFrame.setAttribute('scrolling', 'no'); iFrame.setAttribute('frameborder', '0'); setTimeout(function() {var contents = (iFrame.contentWindow) ? iFrame.contentWindow : (iFrame.contentDocument.document) ? iFrame.contentDocument.document : iFrame.contentDocument; contents.document.open(); contents.document.write(decodeURIComponent("%3Cdiv%20id%3D%22amznCharityBannerInner%22%3E%3Ca%20href%3D%22https%3A%2F%2Fsmile.amazon.com%2Fch%2F73-1120386%22%20target%3D%22_blank%22%3E%3Cdiv%20class%3D%22text%22%20height%3D%22%22%3E%3Cdiv%20class%3D%22support-wrapper%22%3E%3Cdiv%20class%3D%22support%22%20style%3D%22line-height%3A%2028px%3B%20font-size%3A%2025px%3B%20margin-top%3A%201px%3B%20margin-bottom%3A%201px%3B%22%3ESupport%20%3Cspan%20id%3D%22charity-name%22%20style%3D%22display%3A%20inline-block%3B%22%3EOklahoma%20City%20Figure%20Skating%20Club%20Inc.%3C%2Fspan%3E%3C%2Fdiv%3E%3C%2Fdiv%3E%3Cp%20class%3D%22when-shop%22%3EWhen%20you%20shop%20at%20%3Cb%3Esmile.amazon.com%2C%3C%2Fb%3E%3C%2Fp%3E%3Cp%20class%3D%22donates%22%3EAmazon%20donates.%3C%2Fp%3E%3C%2Fdiv%3E%3C%2Fa%3E%3C%2Fdiv%3E%3Cstyle%3E%23amznCharityBannerInner%7Bbackground-image%3Aurl(https%3A%2F%2Fm.media-amazon.com%2Fimages%2FG%2F01%2Fx-locale%2Fpaladin%2Fcharitycentral%2Fbanner-background-image._CB309675353_.png)%3Bwidth%3A300px%3Bheight%3A250px%3Bposition%3Arelative%7D%23amznCharityBannerInner%20a%7Bdisplay%3Ablock%3Bwidth%3A100%25%3Bheight%3A100%25%3Bposition%3Arelative%3Bcolor%3A%23000%3Btext-decoration%3Anone%7D.text%7Bposition%3Aabsolute%3Btop%3A20px%3Bleft%3A15px%3Bright%3A15px%3Bbottom%3A100px%7D.support-wrapper%7Boverflow%3Ahidden%3Bmax-height%3A86px%7D.support%7Bfont-family%3AArial%2Csans%3Bfont-weight%3A700%3Bline-height%3A28px%3Bfont-size%3A25px%3Bcolor%3A%23333%3Btext-align%3Acenter%3Bmargin%3A0%3Bpadding%3A0%3Bbackground%3A0%200%7D.when-shop%7Bfont-family%3AArial%2Csans%3Bfont-size%3A15px%3Bfont-weight%3A400%3Bline-height%3A25px%3Bcolor%3A%23333%3Btext-align%3Acenter%3Bmargin%3A0%3Bpadding%3A0%3Bbackground%3A0%200%7D.donates%7Bfont-family%3AArial%2Csans%3Bfont-size%3A15px%3Bfont-weight%3A400%3Bline-height%3A21px%3Bcolor%3A%23333%3Btext-align%3Acenter%3Bmargin%3A0%3Bpadding%3A0%3Bbackground%3A0%200%7D%3C%2Fstyle%3E")); contents.document.close(); iFrame.style.display = 'block';}); document.getElementById('amznCharityBanner').appendChild(iFrame); })();