2018 Miller-Brenner Winter Camp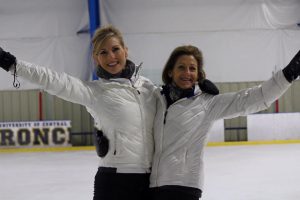 Attention all Figure Skaters!
Save the Date – please join us for the 2018 Miller-Brenner Winter Skate Camp held at Arctic Edge Ice Arena in Edmond on January 27 and 28, 2018. This fun-filled, wonderful weekend is an opportunity led by Jackie Brenner and Diane Miller.  View a flyer here.
Sign up today on entryeeze. Sponsorships are available, click here for more information. If you have any questions about the camp, please contact okcfigureskating@gmail.com for additional details.
Lead Coach: Diane G Miller (pictured right)
A National and International Figure Skating Coach,
Diane has 40 years of coaching experience. She
was a World Team Alternate, a 9-time National and
International competitor, and holds a PSA Level V
Ranking.
Co-Coach: Jackie Brenner (pictured left)
A coach to U.S. Figure Skating Regional Champions,
Sectional and Junior National medalists, Jackie was
the U.S. Figure Skating Coaches Committee Chair,
the Professional Skaters Association Honorary
Member/Lifetime Achievement Award recipient,
the PSA Developmental Coach of the Year, and PSA
Volunteer of the Year.