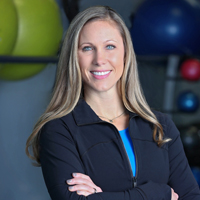 Elizabeth grew up playing basketball and soccer in Oklahoma. Elizabeth's love of sport and exercise led her to play sports collegiately at Oklahoma Christian University where she obtained her Bachelor of Science degree in physical education with the goal of becoming a nationally certified personal trainer. Elizabeth has been nationally certified through the National Strength & Conditioning Association (NSCA) since 2004.
She graduated with a Masters Degree in Exercise Science & Wellness Management from the University of Central Oklahoma (UCO) in May 2018. Elizabeth specialized in off-ice conditioning during her internship under the advisement of Jacqueline Brenner at Arctic Edge Ice Arena.
Elizabeth focuses on educating clients and athletes on the importance of safety, injury prevention, nutrition tips, efficiency of movement required for sport and recreation, implementing effective programming to achieve muscle balance and increase body awareness to help each individual or athlete reach their highest potential.
Kindness, respect, being coachable, having good character, displaying a good attitude along with hard work ethic are foundational qualities Elizabeth looks for in each athlete she works with.
Elizabeth enjoys working with individuals with varying degrees of exercise background and knowledge. Sometimes creating a balanced life with healthy living can seem overwhelming. Elizabeth loves to help each individual feel like they are more than capable to make positive steps towards their immediate goals and long term goals.