Miller-Brenner Winter Skate Camp
THANK YOU for joining us for an amazing Miller Brenner Winter Camp on January 25 and 26, 2020! The talented staff was led by Diane Miller and Jackie Brenner helping guide skaters through new and exciting sessions strengthening their skills and love of skating. We were beyond excited to welcome special guest Ryan Jahnke, Max Aaron and Sally Smith! Mark your calendars and Save the Date for the 8th Annual Miller-Brenner Winter Camp 2021 on January 23 and 24, 2021.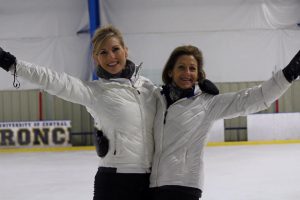 Lead Coach: Diane G Miller (pictured right)
A National and International Figure Skating Coach, Diane has 40 years of coaching experience. She was a World Team Alternate, a 9-time National and International competitor, and holds a PSA Level V Ranking.
Co-Coach: Jackie Brenner (pictured left)
A coach to U.S. Figure Skating Regional Champions, Sectional and Junior National medalists, Jackie was the U.S. Figure Skating Coaches Committee Chair, the Professional Skaters Association Honorary Member/Lifetime Achievement Award recipient,
the PSA Developmental Coach of the Year, and PSA Volunteer of the Year.
THANK YOU FOR OUR WONDERFUL SPONSORS!