Miller-Brenner Winter Skate Camp
Join us for the 7th annual Miller Brenner Winter Camp on January 25 and 26, 2020… a great skating weekend with amazing coaches! The talented staff led by Diane Miller and Jackie Brenner help guide skaters through new and exciting sessions strengthening their skills and love of skating. We are excited to welcome new special guest Ryan Jahnke and bring back a couple of our favorite guests, Max Aaron and Sally Smith!
2020 Winter Camp

Registration is now open on Entryeeze
PRE-FREESKATE (LTS USA) AND UP Saturday – 8-5 AND Sunday – 8-1
Register Early $150 by December 1st
Late Registration $175 by January 15th
MINI CAMP – SNOWPLOW-BASIC 6 Saturday – 12-5
Register Early $65 by December 1st
Late Registration $75 by January 15th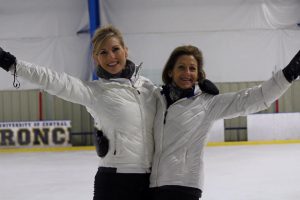 Lead Coach: Diane G Miller (pictured right)
A National and International Figure Skating Coach, Diane has 40 years of coaching experience. She was a World Team Alternate, a 9-time National and International competitor, and holds a PSA Level V Ranking.
Co-Coach: Jackie Brenner (pictured left)
A coach to U.S. Figure Skating Regional Champions, Sectional and Junior National medalists, Jackie was the U.S. Figure Skating Coaches Committee Chair, the Professional Skaters Association Honorary Member/Lifetime Achievement Award recipient,
the PSA Developmental Coach of the Year, and PSA Volunteer of the Year.