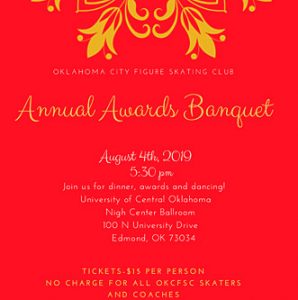 Please join us on August 4th, 2019 from 5:30 to 8:30 p.m. at the University of Central Oklahoma – Nigh University Center Ballroom. Bring the whole family for dinner, awards and dancing! No charge for OKCSFC skaters and coaches. All sibling and parents will need a ticket. Tickets are $15.00 per person.
Register online via http://comp.entryeeze.com/Membership/Welcome.aspx?cid=180. You will find the information under the merchandise tab. Registration is Due by July 26th, 2019.
The banquet organizers are also requesting pictures for the slideshow. If you have pictures you would like considered for inclusion,  please email them to okcfscbanquetphotos2019@yahoo.com by July 15th.