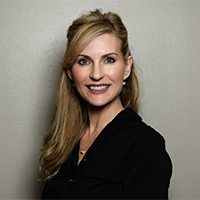 Jacqueline is the Director of Figure Skating Operations at Arctic Edge Ice Arena and Blazers Ice Centre in Edmond and Oklahoma City, OK. Due to her commitment, exemplary representation, growth and passion, she is the recipient of an Honorary Lifetime Membership for the Oklahoma City Figure Skating Club.
Jacqueline is a highly sought after Guest Speaker for Figure Skating Clubs throughout the United States. She has been a presenter at the Professional Skaters Association International (PSA) Conference since 1996. PSA is a 6,000-member international organization. She has continued to travel to other states educating other professional Coaches and athletes.
As a Coach of U.S. Figure Skating Regional Champions, Sectional and Junior National medalists, Jacqueline has been teaching ice-skating for over twenty-five years. Jacqueline has passionately supervised the training and development of hundreds of competitive athletes for U.S. Figure Skating events, international competitions, professional tours and hockey power skating. Partnering with Professional Coach, Diane Miller, Jacqueline holds an annual Winter Skate Camp at the Arctic Edge Ice Arena every February. Skaters have attended the camp from all over the United States to improve their skills and performances. During the Summer she coordinates a Skating Camp for skaters of all levels. She has specialized daily classes that focus on off-ice conditioning and on-ice techniques.
In addition to providing on ice lessons, Jacqueline focuses on the development of her skaters as not only athletes, but also evolving them as confident and caring individuals. She places tremendous significance on character, integrity, superb sportsmanship and being a positive role model for others.
In recognition of her years of volunteerism and presenting professional ethics, positive coaching concepts and advanced skating techniques at conferences and seminars nationwide, PSA presented Jacqueline with the 2009 Lifetime Achievement Award.
Serving as the Chair of Coaches Committee for U.S. Figure Skating from 2006 – 2011, Jacqueline has earned an early leadership role in the review and endorsement of required continuing education courses for coaches. She has authored two professional development courses "Coaching the Young Skater" and "Leadership in Sport", which still serve today as Sports Science and Ethics online educational courses.
Currently holding PSA Master ratings in four disciplines (Free skate, Moves in the Field, Ice Dance and Free Dance) and a Level IV ranking, Jacqueline was honored with the PSA Developmental Coach of the Year 2000 and the PSA Volunteer of the Year award in 2006.
In addition to ice-skating, she worked with Professional Hockey Player, Matt Donovan from a young age on power skating encompassing edge quality; turn execution, speed and agility drills. Matt entered the NHL draft at age 18 and is currently a Defenseman for the New York Islanders. Jacqueline was the Central Hockey League Blazers power skating instructor in Oklahoma City for two seasons, and continues to work with individuals and teams with the OKC Youth Hockey Association.
Locally, Jacqueline has designed ice skating courses for Southern Nazarene University, Oklahoma City Community College, Positive Tomorrows educational programming for all the temporary shelters in Oklahoma City by hosting annual holiday events for children less fortunate throughout the years and other local charities to give back to the community.
Originally, from Michigan, Jacqueline received her Bachelor of Business Administration from the University of Central Oklahoma on scholarship. Jacqueline continues to inspire people of all ages and abilities to make fitness and sports a permanent fixture in their lives. Jacqueline is proud to be making a difference in the Oklahoma City community and in the lives of others.