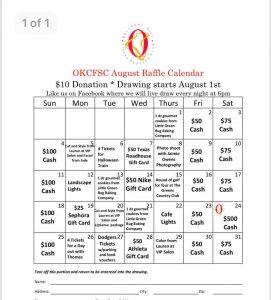 We are having a Calendar Raffle Fundraiser for the month of August. We would love if all of our skaters would participate and help sell tickets/calendars.
All you have to do is find a board member and get set of calendars and start selling!! All tickets with the money must be turned into a board member by July 31st. The donor keeps the calendar and you turn in the bottom portion with their info.
Rules: Calendar Raffle starts August 1st, 2019. We have 31 days of amazing prizes and lots of CASH prizes!! Each calendar/ticket is $10.00. Prizes will be drawn as listed on the calendar. There is no limitation on the number of times any individual may win. We will have a LIVE Facebook drawing every night to draw ONE winner a day! All winners will be notified by email/phone.
There will be skater prizes!!!
Here is a list of our of board members who can help you, Andrea, Jaclyn, Melanie, Maggie or Megan W. Thank you to all of our sponsors!! Please let us know, if you have any questions. Thank you for your support!!