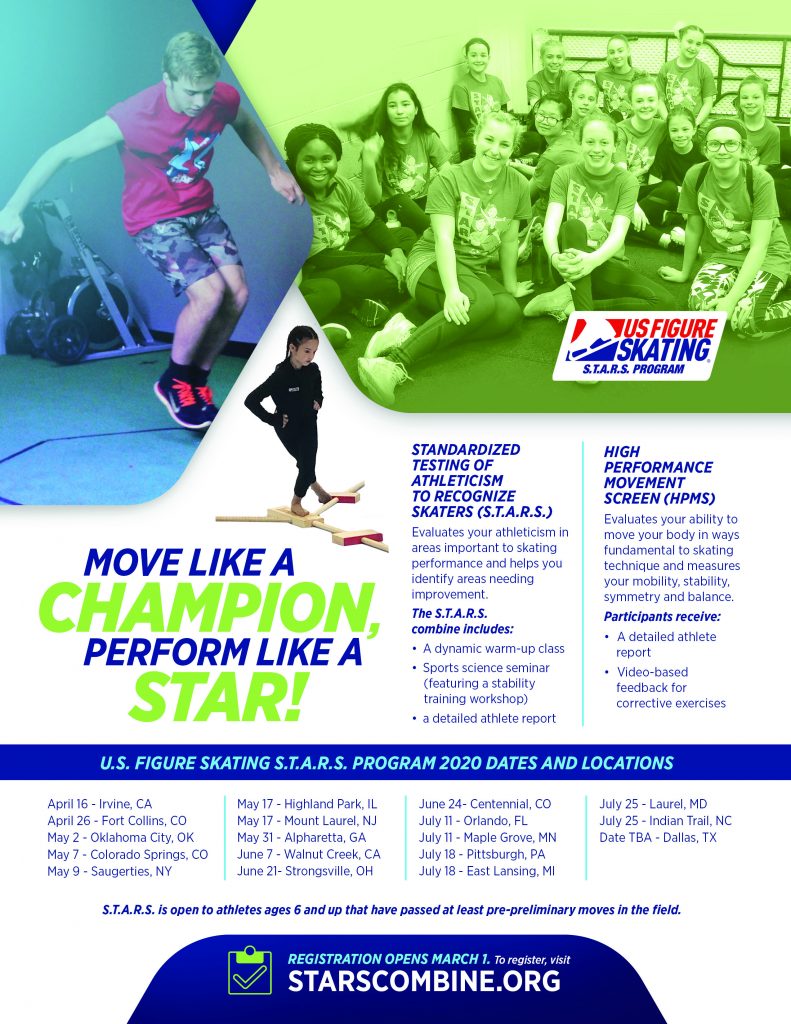 Dear Figure Skating Club,
We are reaching out to tell you about the 2020 U.S. Figure Skating S.T.A.R.S. Program. The S.T.A.R.S. combine and High Performance Movement Screen will be coming to Edmond, OK on Saturday, May 2 at the Arctic Edge Ice Arena.
Online registration is now open, visit www.starscombine.org to register or use the following link for direct access to the Oklahoma registration page:
S.T.A.R.S. (Standardized Testing of Athleticism to Recognize Skaters) is a fun, one day off-ice testing event designed to provide skaters and coaches with specific information about the athletic abilities specifically related to skaters' on-ice skills. The purpose of S.T.A.R.S. is to help skaters train their athleticism ahead of their skills curve and to help their bodies be as injury resistant as possible.
The S.T.A.R.S. combine consists of 15 tests in three areas: 1) Agility/Balance/Coordination; 2) Strength and Power; 3) Flexibility. The test allows athletes to compare their results with others of the same skating level, age and gender across the country. Individual data is never shared. All S.T.A.R.S. combines will have an interactive seminar in addition to the off-ice testing. This year's seminar topic is on mental training and mindfulness. This seminar will introduce athletes to the mental skills implemented by elite athletes to improve performance consistency, create effective practice habits, enhance motivation, fine-tune focus and gain ability to perform in pressure situations. Athletes will be introduced to mental fitness strategies such as mindful training and re-focusing; they will leave the session with a mental fitness exercise to implement into daily training.
The new High Performance Movement Screen is a group of evaluations designed to give athletes, coaches and parents information in three key areas: mobility, stability and symmetry. The screen is designed to assess movement patterns in figure skaters to identify and treat mechanics that may prohibit optimal performance. The tests included are valid and reliable to assess mobility and stability in the lower extremity as well as a baseline test for concussion. The goal of the program is to minimize the risk of injury and maximize performance. Participating athletes receive a one-on-one screening completed by a physician, physical therapist or certified athletic trainer. Each athlete receives a detailed report flagging areas of concern and a thorough explanation of exercises and resources to correct flagged areas. The movement screen is open to youth and adult athletes.
To participate athletes must:
• be 6 years of age at the date of the combine
• have passed their pre-preliminary moves-in-the-field test for S.T.A.R.S. portion and is recommended to have passed juvenile moves- in-the-field test to participate in the High Performance Movement Screen
More information about S.T.A.R.S., including a complete list of participating cities, can be found at www.starscombine.org.
We hope to see you there!
Melissa Vriner
U.S. Figure Skating
National S.T.A.R.S. Program Coordinator
stars@usfigureskating.org
www.starscombine.org