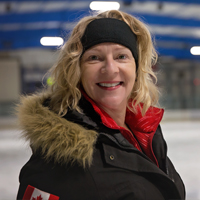 Registered Coach with U.S. Figure Skating and the Professional Skaters Association
With 23 years coaching experience, Ms. Jones has enjoyed great success training athletes in the Oklahoma City skating community. Many of her students have risen through the U.S. Figure Skating test structure all the way to the Senior level and have excelled in competitions throughout the Southwest Region, in professional ice shows and beyond.
She began skating in her native home of Victoria BC, Canada and continued training and testing in Edinburgh, Scotland. She trained under Sandra Leard, Lorraine Hyne, and Patrick O'Brien, passing her Canadian Gold Test and competing regionally. Ms. Jones began her professional career with Paris D'Ice in Seoul, Korea and subsequently toured Europe and Mexico with many professional ice shows before landing with Holiday on Ice. After 4 years with Holiday, she settled in Oklahoma City and began her teaching career, where she became the PSA State Education Coordinator, has been Mater rated in Group and Moves and in the Field and was a PSA Education Scholarship recipient. Ms. Jones is also an accomplished director and choreographer, having been involved in the OKSFSC's ice shows since 1991.
Ms. Jones teaches all levels from Beginner through Gold level. She specializes in figure skating freestyle, jump and spin technique, hockey player power skating, and moves in the field. She takes her business of skating instruction very seriously and expects her students to work hard, practice and build lifelong skills that reach beyond the walls of the ice arena.
GO CANUCKS!
For Booking information or questions regarding rates/policies, please send an email with your contact information to info@ajskates.com.