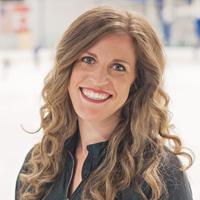 After competing in figure skating throughout high school, Deborah first began coaching in 2008. She then spent several years in full-time humanitarian service in West Africa, where, unfortunately, there are no ice rinks!
Since returning to Oklahoma in 2013 she returned back to the ice, to share her passion for the sport again through coaching. Deborah has coached skaters at local, out of state, and national competitions. She especially loves to see her students' self-confidence and excitement soar as they develop as a stronger athlete both on and off the ice.
Deborah is married and has two daughters.
In addition to specific skating skills, Deborah seeks to teach character, sportsmanship, and positive life lessons. She coaches private and group lessons for all ages and is a member of the U.S. Figure Skating Association and Professional Skaters Association with a PSA Basic Accreditation certification.
For lesson availability and other information, contact her at MrsDeborahConteh@gmail.com